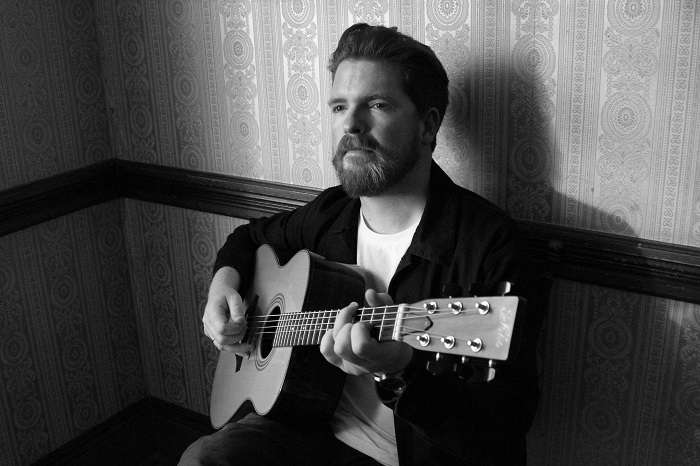 Beyond presents:
John Smith
+ Moteh Parrott
£15
Entry Requirements: 14+
Essex-born John Smith has built a reputation as one of the UK's finest guitarists and songwriters. Raised by the Devon seaside and making his bones in the bars and clubs of Liverpool, John has released five albums with over 10 million Spotify streams. He has played to audiences all over the world in living rooms, festival tents and sold-out concert halls. He is a genuine folksinger, an inquisitive truth-seeker, devoted song interpreter, and enchanting writer. Steeped in the lineage of British folk, taking his cue from Richard Thompson and John Martyn, Smith has evolved a transatlantic blend of fingerstyle and slide guitar techniques. John's intimate takes on love, loss and the journey we make, combined with his innovative guitar work, have won him a loyal following. His honey-on-gravel voice and mesmerizing fingerstyle guitar are undeniable. Sometimes using a slide, sometimes with guitar on his lap, sometimes detuning mid-song, Smith's obsession with the instrument has made a master of him. Whether by way of album or concert, he leads the listener, enthralled in his presence, on a viscerally emotional journey. A contributor and collaborator, John quickly and effortlessly earns the esteem of his comrades and heroes. He has opened for folk greats including John Martyn, Davy Graham and John Renbourn, who called John Smith "the future of folk music." On the contemporary side, he has also opened for Iron and Wine, Tinariwen, and Ben Howard. He has guested with artists such as Jackson Browne, Martin Carthy, Richard Hawley, Jarvis Cocker, Jerry Douglas, Glen Hansard and Rodney Crowell; and in his occasional role as sideman, he has played guitar for artists such as David Gray, Lisa Hannigan, Lianne La Havas, Joe Henry and Joan Baez. He has released five records - his most recent "Headlong" (2017) reached #15 in the Indie Breakers chart, #1 on iTunes' Singer-Songwriter chart, and amassed over 10 million Spotify streams. His forthcoming album "Hummingbird" will be released 5 October in Europe and in early 2019 in the rest of the world on his own imprint, Commoner Records, via Thirty Tigers worldwide. ABOUT HUMMINGBIRD John Smith's inspiration for making "Hummingbird" was deeply personal. An album he has long wished to make, "Hummingbird" reflects the sum of his influences - be they centuries, decades, years, or days old.
The traditional songs on the album originate as far back as the 15th Century, and yet the record is surprisingly current, revealing the affirming consistency of the human condition. In the course of 10 songs, John explores timeless themes of longing, love, loss, horror, tragedy, grief, resilience, desire, devotion, heroism, romance, dignity, and ultimate triumph. John has formed a relationship with the songs over the course of his entire life - some from childhood ("Lord Franklin") and some from over a decade touring ("Willy Moore" and "Time Has Come"). The album reflects the role his influences have played in his own songwriting, selecting and interpreting. Artists including John Renbourn, Davy Graham, Martin Carthy, Norma Waterson, Nic Jones, Joan Baez, Wizz Jones, John Martyn, Danny Thompson, Martin Simpson, and Paul Brady. "I wanted to get away from any sense of artifice and dressing it up. The thing that really appealed to me about recording this album was the idea that I could just sit with a guitar and record something that reflects everything I've learned in all my years of touring and that will also affect people in ways I can't predict. I wanted to remove the obstacles that often interfere and come between artist and audience; it feels like the right thing to do for these songs. Not a lot of people do that anymore - but those are the records I really love. Albums from the 60s and 70s when folk recordings were made concisely and the focus was to get your point across." -John Smith Living with the traditional songs on "Hummingbird" are new original songs penned by Smith ("Hummingbird," "Boudica," and "Axe Mountain (Revisited)") - which stand up alongside the others as evidence of the power of his influences and personal history on his present creativity. Produced by Sam Lakeman and recorded at his Somerset studio, "Hummingbird" features Cara Dillon, John McCusker and Ben Nicholls.
Line Up
Moteh Parrott
Born in Cameroon and given a local name, Moteh Parrott (short for Mnkongmoteh) is a Scottish artist with a distinctive modern indie-folk-rock sound, complementing reflective, uplifting lyrics with raw electric guitar and cello. His music has been described as having a sound comparable with "a Highland wilderness with all the sweeping colour and spirit which that encompasses." (leedsmusicscene.net). After the break up of his London-based band, Red Kites, Moteh returned to the Scottish Highlands, where he began writing new music with cellist Kathleen Rollins-McKie and drummer Marc Rollins Mckie, both previously members of Revere. With Blair Young completing the line up on bass, the 'Afterglow' Acoustic EP was released in late 2018. Moteh now calls Edinburgh home, where he is currently working on his first album.
"An impeccable display of raw talent... a must-see band" artrockermagazine.com
"Brilliant folk-rock collective... each and every one of them a first-rate musician " Netsounds Unsigned
"A really unique band. We absolutely loved this..." BBC Radio Shropshire
"Stunning vocals... He could be singing my weekly shopping list at me and I'd stick it on repeat and listen to it 48 times" kissofbeths.com
"Can create instant euphoria in the crowd... they turned in a second stunner of a showcase performance" Inverness Courier
Gig Highlights
Belladrum Festival 2018, 2017 - Sofar Sounds, Inverness, 2018 - Xpo North Festival, 2017 - Northern Roots Festival, 2017 - Jordan MacKampa Support, Voodoo Rooms, Edinburgh, 2018 - Ethan Johns Tour Support 2016 - Rockness Festival, 2012 (Red Kites) - Blissfields Festival, 2015 (Red Kites) - Shrewsbury Fields Festival, 2014 (Red Kites) - Redfest, 2014 (Red Kites) - Islington O2 Academy, 2015 (Red Kites) - Birmingham, O2 Academy, 2015 (Red Kites)
Sofar sounds performance: https://www.youtube.com/watch?v=10Nvc2BfzIk
https://www.motehparrott.com/music https://www.facebook.com/motehparrottmusic https://motehparrott.bandcamp.com https://soundcloud.com/moteh-parrott https://www.instagram.com/motehparrottmusic/ https://www.youtube.com/channel/UCGWxte1b13ZCzkg_QQxza7A https://twitter.com/MotehP